Ronald H. Schuster, MD
Board Certified Plastic Surgeon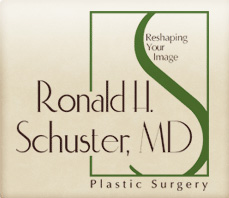 10807 Falls Road #101
Baltimore, MD 21093
(800) 572-1096
Serving patients seeking facelift surgery in Baltimore and the surrounding area
Ronald H. Schuster, MD, is a board-certified plastic surgeon with more than two decades of experience treating Baltimore facelift surgery patients. Outside of his private practice, Dr. Schuster serves as Northwest Hospital Center's Chief of Plastic Surgery. A leader in his field, Dr. Schuster received a Certificate of Excellence for his research on facelift approaches from the American Society for Aesthetic Plastic Surgery. Dr. Schuster is both a talented surgeon and an artist who provides beautiful cosmetic surgery results.
Dr. Schuster offers a wide range of plastic surgery procedures, including facelift surgery. With facelift surgery, Dr. Schuster can combat visible signs of facial aging, including sagging skin, displaced fat, hollow-looking pockets, jowls and deep-set wrinkles. He is also a highly sought-after provider of blepharoplasty (eyelid surgery) and rhinoplasty (nose surgery).
For individuals who are not yet ready to pursue cosmetic surgery, Dr. Schuster offers a variety of nonsurgical cosmetic treatments, including Botox muscle relaxant to smooth out overlying wrinkles. He also offers dermal fillers to restore fullness to areas of the face that are lacking volume. At the practice of Dr. Schuster, patients will also find several skin treatment options, including skin-tightening treatment and laser hair removal.
To schedule a one-on-one consultation with Dr. Schuster to find out more about facial rejuvenation surgery, please contact his practice by calling (800) 572-1096.
What Do Patients Say About Dr. Schuster?
More About Ronald H. Schuster, MD
Ronald H. Schuster, MD, earned his bachelor's degree in music at Emory University in Atlanta, Ga. He then obtained his medical degree at the University of Maryland School of Medicine prior to fulfilling a five-year residency in general surgery at Sinai Hospital in Baltimore. Dr. Schuster then completed a three-year cosmetic surgery residency and fellowship training program at the Washington University School of Medicine / Barnes Hospital in St. Louis, Mo. Dr. Schuster also fulfilled additional fellowship training in craniofacial surgery, with an emphasis on cleft palate and craniofacial deformity reconstruction, at St. Louis Children's Hospital. He belongs to the American Society for Aesthetic Plastic Surgery, the American Society of Plastic Surgeons, the American Medical Association, the Baltimore County Medical Society and the American Society for Laser Medicine and Surgery, as well as several other professional organizations.

Dr. Schuster is a member of numerous professional associations.
Dr. Ronald H. Schuster also performs eyelid surgery and rhinoplasty in Baltimore. To read more about these facial rejuvenation options, please visit the respective pages.
You Can Email Dr. Schuster Here: